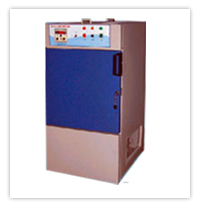 BOD Incubator
Product Description
Our team of highly qualified & experienced workforce helps us in manufacturing and supplying BOD Incubator. It is used in medical and scientific research laboratory to maintain temperature for test tissue culture growth. This equipment can also be used for storage of bacterial cultures and incubation where high degree of constant temperature accuracy is required. To manufacture this incubator we use optimum quality materials and components. BOD Incubator provides with accurate conditions and uniformity throughout the chamber. It has double walled modular structure with thick PUF insulation. Heavy-duty door hinges and latches are provided in this incubator to maintain a secure and uniform seal.

Features :

Temperature 5 °C. above ambient to 60 °C
Digital temperature controller with an accuracy of + / - 0.5 °C.
Specification
| | |
| --- | --- |
| Chamber Volume | 340.0 ltrs. 285.0 ltrs. 170.0 ltrs.90.0 ltrs. |
| Cubic Feet | 3 6 10 12 |
| Internal Size cms | 40 X 40 X 57 50 X 40 X 85 57 X 57 X 88 60 X 60 X 95 |
| External Size cms | 53X68 X 135 63 X 68 X 163 70 X 85 X 166 73X 88 X 173 |
| Shelves | 2 2 2 2 |
| Range | Ambient + 5 °C. to 60 °C. |
| Controller Accuracy | 0.5%°C. |
| Uniformity | 1% of set value |
| Air Heater Element | 30 min. up to 60 °C. without load. |
| Heat up Time | Digital Display Electronic Controller. |
| Cool Down time | Pt-100 |
| Cooler | Mild Steel / Stainless Steel 304 quality. |
| Compressor | Mild Steel Powder Coated |
| Controller | G.I. / Stainless Steel Wiremesh |
| Sensor | Glass Wool 65 mm. |
| Internal Chamber | Adjustable type ( Aluminum ) |
| External | High Temp. Felt / Asbestos Gasket |
| Doors | Double Door, outer metallic & inner acralic door |
| Insulation Body | Puf 50mm / Glass Wool 65mm |
| Insulation Door | Thermo Cole. |
| Inner Acrylic Door | Inner Full Size Sea through Acrylic 8 mm thick. |
| Circulation | Motorized Blower from back |
| Air Circulation Motor | 1/12 Hp, 1440 R.P.M. |
Optional
| | |
| --- | --- |
| Safety Device | Adjustable hydraulic over-temperature limiter protector. |
| PID Control | Microprocessor based PID Controller. |
| Computer Interface | RS 485 / RS232 interface for multiple & single communication port. |
| Recorder | Strip Chart / Circulation Chart. |
| Cyclic Timer | 0 to 24 hrs X 7 days cyclic ON / OFF timer for illuminating port. |
| Capacity (watts) | 1500 1500 15001500 |
| Power Consumption | 7 amps 7 amps 10 amps 10amps |
| Net Weight | 80 kgs 85 kgs 98 kgs 110 kgs |
| Electric requirements | AC230 V & 50 Hz cycle. |
Contact Us
A-221, Amar Gian Industrial Complex, Opp. New S.T Stand, Khopat, Thane, Maharashtra, 400601, India
Phone :+918037303519