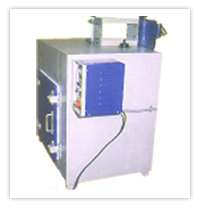 Electrode Drying Ovens
Product Code : Drying Electrodes
Product Description
Electrode Drying Ovens
Drying Electrodes : Generally electrodes are hygroscopic in nature, it absorb moisture from environment. Such electrodes gives porous welds & fuse slowly. For smooth weld, electrodes must be dried perfectly before they used. For low hydrogen electrodes keep oven at 250 deg.C.
Submerged Arc/Gas Welding Fluxes : Like electrodes, these Fluxes have tendency to absorb moisture from environment. Such Fluxes are dried at 250 deg.C. For best result.
Construction : Double walled, Both side made of mild steel. Glass wool insulation. Interior is painted with heat resisting aluminum paint & Exterior is painted with powder coating epoxy paint.
Heating & Control : Heating element made from best quality Nickel chromium wire. The element work at low & high Temp. Temp. is controlled by Thermostat / energy regulator / digital display temp. controller etc.
Contact Us
A-221, Amar Gian Industrial Complex, Opp. New S.T Stand, Khopat, Thane, Maharashtra, 400601, India
Phone :91-22-25477638