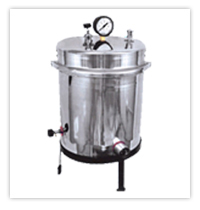 Portable Autoclave
Product Code : PortableAutoclave
Product Description
Portable Autoclave
"AVI" make Autoclaves are designed and fabricated for steam sterilization process to Kill micro-organism through the application of saturated steam under pressure to suit various I.S. standards application in the growing field of Medical, Agricultural Institution, Research laboratories and Various Industries.
Specifications :-
Introduction :


AVI a name of quality and quick service, an asset to Hospitals, Pharmaceutical, Tissue culture, Bio-fertilizer Laboratories and research instituses with modest sterilizing needs, where contaminated objects require sterilization. AVI have made its primary objectives to help fight the spread of infections, caused by pathogenic micro-organisms. We represent most innovative and advanced technologies in our products supported by our most efficient customer support network.
Construction :
Single walled construction, The wall is made of thick high grade stainless steel sheet of SS-304 grade. The lid is made of stainless steel sheet. . Provided with built- in safety valve, pressure gauge, pressure release valve . The pressure is adjustable from 5 psi to 20 psi .The pressure with an accuracy of +/- 1 psi. Supplied complete with chord and plug.
Mode of Heating :
Electrically heated by special flange type/immersion type . to work on 230 volts single phase.
Size :
12" x 12" Stainless Steel
Contact Us
A-221, Amar Gian Industrial Complex, Opp. New S.T Stand, Khopat, Thane, Maharashtra, 400601, India
Phone :91-22-25477638